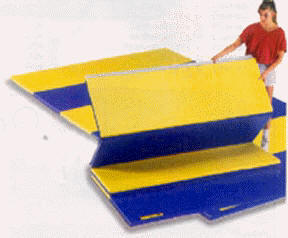 These exceptional mats, distributed by the Athletic Connection, are1-3/8″ thick cross-linked polyethylene and fold accordian style for easy storage. They are covered with tough 14oz vinyl 2′ wide panels. Velcro fastening strips are on ALL FOUR sides. Minimum of two 4×8′ mats are required for a reasonably safe workout area; two 5×10′ mats are nicer, and two 6×12′ mats are very roomy. Standard color is royal blue & can usually be shipped in 1-2 days.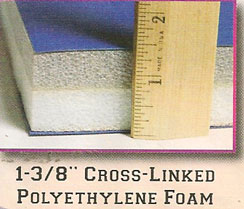 Custom colors [price is about 25% more] are black, columbia [sky] blue,  dark green, grey, kelly green, maroon, navy blue, orange, purple, red, tan, white, yellow & mat panels may be in solid or alternating colors and may require 4-6 weeks for delivery. ALL SALES FINAL ON CUSTOM COLORS ONCE ORDERED! Custom color mats may NOT be returned. Actual colors may vary if mats ordered at different times. For information & prices on custom colors please click HERE.
I've been using these great mats for over 50 years. They wear extremely well, retain their shock absorption ability, are lightweight and easy to store.
4×8′ mats are usually shipped by UPS or FedEx. 5×10′ and 6×12′ mats are shipped by truck to continental U.S. locations only — direct from manufacturer. Contact us for shipping rates & regulations to other locations before you order.
Prices for mats subject to change so click HERE to check price before ordering. Shipping rates are  included in the final price shown on a per-mat rate. Additional discounts may be available for purchases of FOUR or more mats.
Mats can ONLY be shipped to a complete street address, which includes your name, street address, city, state, ZIP. Please enter that information in the order box below. P.O. or R.R. boxes, PO boxes listed as suite #, etc., or addresses outside the U.S. are NOT acceptable, will delay shipping and may result in additional shipping charges due by you directly to the shipping company [UPS, trucking co., etc.]
STATE SALES TAX: If you live in the states of Maryland, Connecticut, Hawaii, Massachusetts, Tennessee or Wisconsin please contact me for your final price, which must include sales tax. Please email me by clicking HERE. Sales tax will be determined by my supplier. California sales tax will be automatically computed into your final price if you live in California.
If additional states impose sales tax levies due to a company's "presence" in their state I will contact you regarding your final price prior to ordering the mats from the manufacturer.
ORDER BELOW BUT EMAIL ME BY CLICKING HERE FIRST TO CONFIRM THE PRICE