If you have a question or comments for Sensei George Kirby or the BJJY please fill out the contact form below. I usually respond to email inquiries within  24 hours.
I generally do not deal with social media such as Facebook, Twitter, TikTok, Messenger, Instagram, Tumblr, etc. Emailing is my preferred form of communication as it offers the most flexibility and privacy – at least in my book.
Want to Receive "Budoshin-Online" and "Kokoro"


WANT TO KNOW WHAT'S GOING ON?
If you are NOT a BJJY member and want to receive "Budoshin-Online," my monthly  general newsletter please fill  out the "Sign Up Today for Budoshin Online!" form below.  VerticalResponse [the company that maintains my secure email list] uses a "double opt-in" process to protect you from spam & other people who might try to sign you up without your permission or knowledge. Be sure to click "Join Now" to start the double opt-in process.
You'll also receive a monthly link to receive recent issues of Kokoro, my Q&A newsletter for BJJY members.. 
[BJJY members can ignore this sign-up process as you're automatically signed up to receive both publications as part of your BJJY membership benefits.]
When you sign up to receive these publications, please be aware of the following:
VerticalResponse [VR]  uses a "double-opt-in" sign up process to protect you from spam. VR will send you a confirmation email to make sure that you are the person who signed up. You must respond to be placed on my email list. This prevents other people from signing you up without your knowledge or permission.

You can remove yourself from my secure email list at any time by either a] asking me to delete your email address or b] self-deleting by following the simple 1-2 click directions at the end of every issue of Budoshin-Onlines
Note:

If you do not want to use the form to the left, provided by Vertical Response, to receive Budoshin-Online and Kokoro but still want to receive both newsletters just click HERE to fill out the contact form at the top of the page and ask to receive these publications. I'll  respond and  help you through a double opt-in process just using emails between you and me. 
Want to Visit the Santa Clarita Dojo?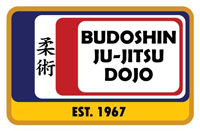 You're always welcome at our Budoshin Ju-Jitsu Dojo in Santa Clarita, CA. We're located in the community room at Old Orchard Park. If you'd like to visit our dojo please check out our meeting information and location [including map] by clicking HERE .
Also, please let us know you're coming by clicking HERE and filling out the contact form at the top of this page. Also please let me know if you have a martial arts background.